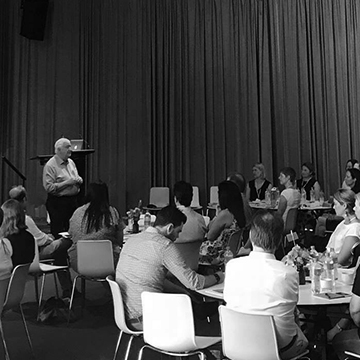 newday Leadership Lab
SAHMRI Auditorium, Adelaide
Following the resounding success of the inaugural newday summit in July 2017, the first newday Leadership Lab was held in November 2017 to capitalise on the significant shifts that took place for many of our guests and help them to take the next step towards leading for the greater good.

The theme Speaking to Lead was brought to life by David Griggs, one of the foremost speaking coaches in the world. A graduate of the National Institute of Dramatic Art (NIDA), David has worked as a theatre actor, director and teacher. He has also had extensive experience in the corporate sector managing a family manufacturing business. This unique background comprising business and theatre experience informs an approach that emphasises performance and engagement so that each word spoken resonates with audiences and brings the speaker's vision to life.

David designed the session for every Newday leader, not just public speakers, and guided participants towards becoming more aware of the impacts – both good and bad – of what comes out of their mouths.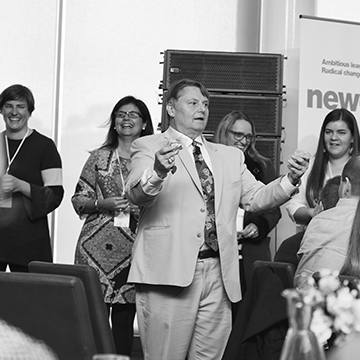 newday 2017
Adelaide Oval, Ian McLachlan Room
The landmark leadership event quickly garnered interest from the non-profit, public and corporate sectors alike, thanks to its line up of remarkable speakers, which includes 2005 London bombing survivor, Dr Gill Hicks, social entrepreneurs, Jane Tewson, Roger Antochi, Steph Lorenzo and Mike Worsman; humour advocate, Tim Gard; as well as Katrina Webb.

The event received excellent feedback, with 75% of participants rating it 9 or 10 out of 10, and 99% rating it 7 or higher.

Imagery — Catherine Leo Photography